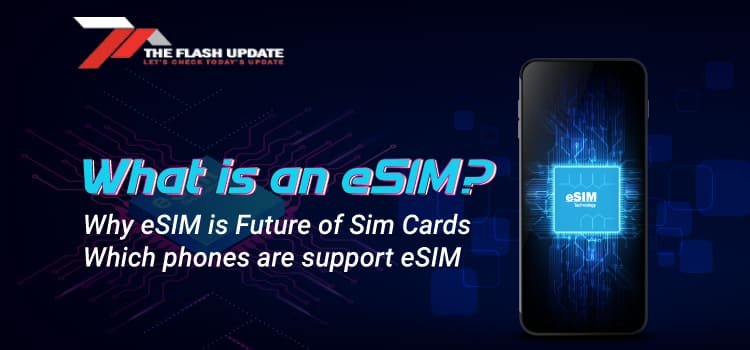 These days, a large proportion of devices do not feature eSIM. But now companies are introducing devices with such facilities. Phones that possess eSIM facility, still have a place for a regular micro-SIM that everyone uses normally.
The adoption of embedded SIM cards carries a number of benefits to device manufacturers plus networks, but there are some benefits for you too. So, what is an eSIM? Plus what will it offer you? Let's dive into details.
What is an eSIM?
For eSIMs – embedded SIM cards, no physical SIM cards or physical swapping over required by you. An eSIM is an electronic or embedded SIM, Instead of a physical SIM card, the eSIM technology is built directly into your smart device. In the case of embedded SIM cards, a small chip is used to validate your identity with a carrier.
Embedded SIM cards are rewritable, means you can change your network operator with a simple phone call. eSIM is strengthened by the GSMA, the organisation has established the standard for embedded SIM cards globally.
Just to inform you, eSIM requires support by the carrier or network and this facility must be enabled by them. If they will not support this functionality then no one will be able to use eSIMs.
Also Visit: Minecraft star Karl Jacobs from MrBeast's crew and Dream SMP
Are there any disadvantages to eSIM?
Everyone is noticing the bright side of eSIM, but we have noticed some disadvantages that you may experience in future. In the future, there could be difficulty for customers in terms of choosing their network operator.
It is possible that handsets would be pre-loaded with a particular network or carrier. And maybe pre-loaded with the carrier that you do not prefer to use.
Another disadvantage that we have noticed is, people can not quickly switch smartphones or devices with eSIM unless they communicate with their network. Dependability on networks, even for switching phones, doesn't sound good.
Also Visit: What is bitcoin? Who Created Bitcoin? How many Bitcoins are left?
Which Handset Models are available with eSIM capability?
| | |
| --- | --- |
| Sr. No | Models |
| 1 | Apple iPhone XR |
| 2 | Apple iPhone Xs |
| 3 | Apple iPhone XS Max |
| 4 | Apple iPhone 11 |
| 5 | Apple iPhone 11 Pro |
| 6 | Apple iPhone 11 Pro Max |
| 7 | Apple iPhone SE (2nd generation) |
| 8 | Apple iPhone 12 Mini |
| 9 | Apple iPhone 12 |
| 10 | Apple iPhone 12 Pro |
| 11 | Apple iPhone 12 Pro Max |
| 12 | Samsung Galaxy Z Flip |
| 13 | Samsung Galaxy Fold |
| 14 | Samsung Galaxy Note 20 Ultra 5G |
| 15 | Samsung Galaxy Note 20 |
| 16 | Samsung Galaxy Z Fold 2 |
| 17 | Samsung Galaxy S21 5G |
| 18 | Samsung Galaxy S21+ 5G |
| 19 | Samsung Galaxy S21 Ultra 5G |
| 20 | Google Pixel 3 |
| 21 | Google Pixel 3 XL |
| 22 | Google Pixel 3A |
| 23 | Google Pixel 3A XL |
| 24 | Google Pixel 4A |
| 25 | Motorola Razr |
| 26 | Motorola Next Gen Razr 5G |
Note: For Apple devices with eSIM Compatibility,  embedded SIM card is supported on iOS version 12.1 or higher, you need to upgrade to most advanced software version to make these devices eSIM ready.
How many eSIM profiles can someone have in single device?
One can hold multiple eSIM profiles in a smartphone, but it is good to have not more than 3 eSIM profiles in one device. The reason behind this is, only 1 eSIM profile can be activated at a time.
What services the consumer is going to get on eSIM activation?
All Consumers are going to continue to receive all services like Data, Voice and SMS,  same as you have on a physical SIM.