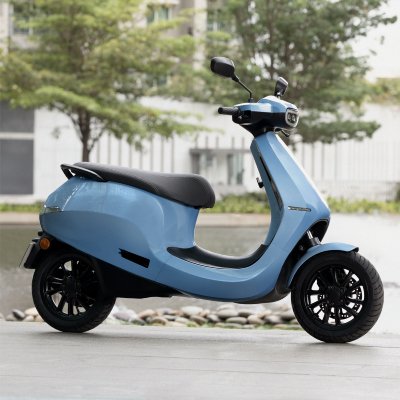 Highlights:
Ola electric scooter sale to start next week.
Receives half a million pre-orders for its most anticipated electric scooter
Ola's ambition for millions of units
---
Ola Electric has already received approx half a million "pre-bookings" since July 15, 2021.
Such was the rush that Ola Electric's server crashed when the online buying platform opened up to the public on September 8.
Company officials expected 40-50 per cent of pre-orders conversion into purchase orders.
Pre-orders received to date are a quarter of the Ola Electric plant's current annual capacity of two million units.
The 500-acre plant – Ola Electric
The electric scooters are currently scheduled to begin rolling out of Ola Electric's 500-acre plant in October. It is the world's largest two-wheeler manufacturing facility constructed in a record time of four months, the total investment into the project is Rs 2,400 crore.
The plant is intended to expand in phases, with an annual capacity billed to reach 10 million in 2023. The company has also set a target of reaching 5 million capacity in 2022.
Also Visit: Quick message reactions, WhatsApp is working on message reactions!
The Indian electric two-wheeler market is expected to witness an increased adoption rate broadly driven by high fuel prices.
Petrol prices are at an unusual high crossing the Rs 100 mark. Diesel is selling around Rs 90. The high cost of Petrol is expected to drive customers towards EVs, which cost less than Rs 1 per kilometre.
Top-end Ola S1 Pro scooter – Ola Electric
The top-end Ola S1 Pro scooter specifications are listed below:
3.9kWh battery,
Eligible for 40 per cent in FAME subsidies
Ex-showroom price (with subsidy deduction) – Rs 1.10 lakh.
Exemptions in road tax and registration fees
Also Visit: Sad News: Young Film and television actress Saranya Sasi dies at 35
All you need to know – Ola Electric (Complete List)
Ola Electric has built a fully digital loan process without any paperwork
Ola Electric has postponed sale process of its scooters S1 by a week.
The sale is delayed due to the "technical difficulties".
Ola S1 electric scooter in two variants:

S1 at ₹99,999  (ex-showroom including FAME II subsidy and excluding state subsidies)
S1 Pro at ₹1,29,999 (ex-showroom including FAME II subsidy and excluding state subsidies)

Go on sale on September 15 at 8 in the morning.
Also Visit: what is a salary slip? You won't believe pay slip's importance, find out now
Bhavish Aggarwal's Statements:
"I want to apologise to all of you, who had to wait for several hours. The website was just not up to our expectations on quality. I know we have disappointed you and I sincerely apologise to each of you for what was clearly a very frustrating experience," Bhavish Aggarwal said.
"We wanted to provide this first of its kind digital purchase journey and today we haven't been able to. Getting you the right experience will take us another week. I want to let you know that we will now be starting our purchase on 15th September, 8 AM.
"Your reservation and your position in the purchase queue remains unchanged, so if you reserved first, you will still be able to buy it first. Our delivery dates also remain unchanged," he noted.
More on TheFlashUpdate