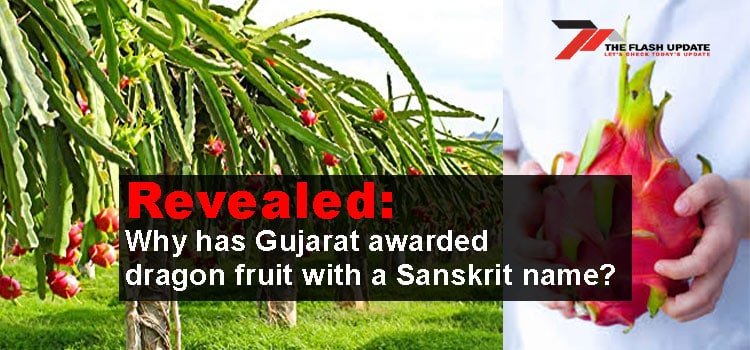 Gujarat awarded American dragon fruit with a Sanskrit name?
News about Dragon fruit Kamalam: Vijay Rupani honourable CM of Gujarat stated calling it dragon fruit "does not appear relevant" and they have determined to name it "Kamalam" as it has the appearance of the lotus flower. Let's read more that Why has Gujarat awarded dragon fruit with a Sanskrit name?
Gujarat CM Vijay Rupani has announced that the state recommends renaming dragon fruit as 'Kamalam'. Rupani said, Dragon fruit "does not sound appropriate". Kamalam was appropriate because of the quality fuchsia 'petals' or 'spikes' of the fruit recall a lotus in bloom.
About Dragon Fruit
What is dragon fruit?
Dragon fruit belongs to the species of wild cactus native to South and Central America. In America, it is called pitahaya or pitaya. The flesh of this fruit is usually white or red. It contains tiny seeds likewise the kiwifruit.
Also Visit: Kim and Kourtney Kardashian Dress Kids perfect matching White Outfits For BaptismIn Armenia
Vietnam is the Dragon fruits' largest producer and exporter in the whole world. Where the fruit was introduced by the French in the 19th century. Vietnam residents call it "Thanh Long", which means "dragon's eyes". And it is believed to be the source of its popular English name "Dragon Fruit".
Dragon fruit is also grown in areas apart from its original and main Latin America. These areas are Thailand, Taiwan, Israel, China, Australia and Sri Lanka. It was introduced to India in the 1990s and is grown in several areas. These areas include Karnataka, Maharashtra, Gujarat, Kerala, Tamil Nadu, Odisha, Andhra Pradesh, West Bengal and Andaman and Nicobar Islands. It grows in all varieties of soil and does not need much water.
Dragon Fruit Nutrition
Dragon fruits are super-rich in antioxidants, mainly vitamin C. Vitamin C makes your immune system healthy. Its luscious skin and plump even helps to form good chemical named serotonin, your 'happiness' chemical. The B vitamins from dragon fruit help particularly with energy generation in your body.
In one 6-ounce portion of dragon fruit pulp, you'll get:
Calories: 102
Fat: 0 grams
Protein: 2 grams
Carbohydrates: 22 grams
Fiber: 5 grams
Sugars: 13 grams
You'll also gain these vitamins and minerals:
Vitamin A: 100 international units (IU)
Vitamin C: 4 milligrams
Calcium: 31 milligrams
Iron: 1 gram
Magnesium: 68 milligrams
Eating the dragon fruit
Dragon fruit is deliciously juicy with a somewhat sweet taste. You can describe its taste as a mix between a pear, a kiwi and a watermelon. The seeds have a nutty flavour.
To eat directly, split the fruit into two parts and take out the flesh with a spoon. You can also cut the ends, pull off the skin, and cut the egg-shaped white pulp to eat.
Also Visit: Mac Miller's Death after 1 Year Later: Man Arrested on the Federal Charges
Dragon fruit can be enjoyed into smoothies or shakes. Despite its magnificent good looks, it has a soft, almost smooth flavour. It gives it adaptability for a variety of sugary sweets. In fact, it can be used for making various savoury dishes from salads to cakes and tacos.
In Latin America, pitaya juice is very familiar drink. Last year, a Ho Chi Minh City bakeshop made bread with this fruit. But unfortunately, that couldn't be marketed due to Covid-19 restrictions.
Why Gujarat awarded dragon fruit with a Sanskrit name?
The idea of renaming the Dragon Fruit
In Mann Ki Baat aired on July 26 last year, PM Narendra Modi had admired the farmers of Kutch District in Gujarat. Especially for taking up the culture of cultivating of dragon fruit. PM praised all farmers for adopting innovative practices, naming it "the very spirit of self-reliance".
Also Visit: Lisa Vanderpump 'Excited' To Star 'Much More' In the Next Season Of 'Vanderpump Rules' After Quitting 'RHOBH'
On the 6th of August, the Gujarat forest department forwarded to the proposal to ICAR. This was arranged by Ram Kumar, additional principal chief conservator of forests. Consequently, the Indian Council of Agricultural Research (ICAR) got this recommendation of renaming the fruit Kamalam, on 6 August.
Additionally, Kamalam is the title of the BJP headquarters in Koba locality in Gandhinagar. Plus the kamal or lotus is the BJP's election logo. However, Rupani, told, no politics was linked in the proposal of renaming. "Gujarat government has decided that dragon fruit is not a suitable word. Across the world, it is known as dragon fruit and one thinks of China. So we have given the name Kamalam. It is a fruit like a lotus," he said.
Also visit: Sea tempest Dorian: upwards of 13,000 houses seriously harmed or demolished in Bahamas
Where the proposal stands
References stated the Gujarat government's recommendation had been rerouted to the Union Ministry of Agriculture and Farmers' Welfare. "ICAR does not do everything in this respect. ICAR is the recommending body. Whatever nomenclature, release of varieties, production, it is all done by the Department of Agriculture and Cooperation, the other wing, and not the research wing," ICAR's deputy director-general, Dr A K Singh said.
ICAR officers stated such a recommendation would need consent from the Botanical Survey of India and the National Biodiversity Authority under the Union Ministry of Environment, Forest and Climate Change.
"Dragon fruit is not a species native to India and any change in its nomenclature in official annals can lead to international litigation. Hence, the opinion of BSI and NBA matters," an ICAR official said.
More on TheFlashUpdate: