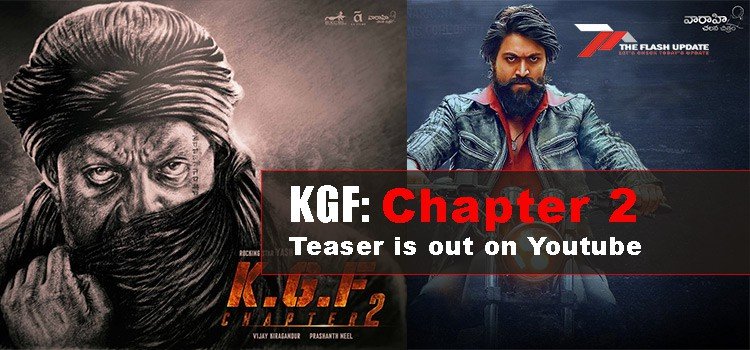 The fully-awaited teaser of Famous KGF: Chapter 2 is out on youtube. The teaser is giving a glimpse of all that you have been waiting for — striking visuals and a glimpse of roles essayed by stars like Raveena Tandon and Sanjay Dutt's highly awaited Adheera.
The director of the movie Prasanth Neel tweeted: "A promise was once made, that promise will be kept!" — " Wishing Rocking Star @TheNameIsYash a very Happy Birthday."
A promise was once made, that promise will be kept!https://t.co/Bmoh4Tz9Ry

Wishing Rocking Star @TheNameIsYash a very Happy Birthday.#KGF2Teaser #HBDRockyBhai @VKiragandur @prashanth_neel @hombalefilms @duttsanjay @TandonRaveena @SrinidhiShetty7 @BasrurRavi @bhuvangowda84 pic.twitter.com/qtNzQ5KJAg

— Prashanth Neel (@prashanth_neel) January 7, 2021
KGF Chapter 2 Teaser
The teaser begins with a voice-over that recalls the promise of Yash's role "Rocky", that he made to his dying mom — that he will not die in poverty, lack of money, hunger. The first part told fans, how Rocky started a fight with his hunger for power? The KGF Chapter 2 will come with the scenes on Rocky's desire for power and his fight to maintain his control.
Also Visit: Tom Holland Latest News Spider Man Breaks His New Year Resolution
The teaser of KGF Chapter 2 grows up the excitement that is already at a great level. Fans have been anticipating for Rocky's comeback for a long period. With some fabulous visuals and Yash's action executions, director Prasanth Neel appears to have taken the energy of the film a groove higher. Catching an impression of the enemy Adheera also boosts the excitement.
The movie's production had come to a pause due to the coronavirus epidemic and the lockdown.
Watch KGF Chapter 2 Teaser on youtube:
When you listen to the Teaser, you will hear these lines in the video: " History Tells Us That Powerful People Come From Powerful Places, History Was Wrong Powerful People Make Places Powerful".
Also Visit: Mac Millers Death after 1 Year Later: Man Arrested on the Federal Charges
KGF Chapter 1
If you have not watched the KGF Chapter 1, you are missing a lot of action and entertainment. You can watch KGF Chapter one on Youtube, or you can check the video given below.
View on:  Youtube
Feel Free to share your views below in the comment section. We will be pleased to have your words in our comment section.
Also Visit: Whatsapp New Privacy Policy Updates