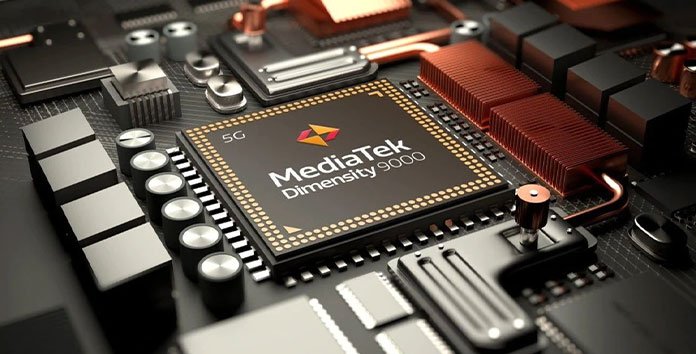 MediaTek's flagship chipset, the Dimensity 9000, has been released. The new chipset will compete with the Snapdragon 8 Gen 1 processor. The Dimensity 9000 is built on the TSMC N4 process, which brings the design up to line with the Snapdragon 8 Gen 1 architecture. The first smartphones powered by the Dimensity 9000 will be released in the first quarter of next year, according to MediaTek. Some of the manufacturers confirmed to use the new chipset are Oppo, Vivo, Xiaomi, and Honor.
Dimensity 9000 Specifications
The Dimensity 9000 has an Armv9 Structured, which the manufacturer believes will aid in giving a flagship experience. The octa-core CPU contains one extreme Cortex-X2 core with a clock speed of up to 3.05GHz, three performance A710 cores with a clock speed of up to 2.85GHz, and four efficiency Cortex-A510 cores. The Dimensity 9000 has LPDDR5X memory with a transfer rate of up to 7500Mbps, as well as an 8MB L3 cache and a 6MB system cache.
The chipset includes MediaTek's 5th generation Application Processor Unit (APU 5.0), which delivers four times the power efficiency of the previous generation APU.
The MediaTek Dimensity 9000 has an Arm Mali-G710 MC10 GPU for graphics. The chipset incorporates MediaTek's HyperEngine 5.0, the company's fifth generation of gaming technology. According to MediaTek, the HyperEngine 5.0 leverages AI-acceleration to optimize graphics while decreasing GPU strain. HyperEngine also includes AI-VRS, the first AI-enhanced variable rate shading technology for smartphones, as well as a raytracing software development kit (SDK) for Android that uses Vulkan.
also read:Difference Between MediaTek and Snapdragon
On smartphones, the new processor can accommodate 320MP camera modules, as well as simultaneous triple camera 18-bit HDR video recording.
The chipset is capable of supporting 144Hz WQHD+ and 180Hz Full HD+ monitors. To reduce battery consumption, MediaTek has included Intelligent Display Sync 2.0 technology in the chipset. Furthermore, MediaTek's most recent Wi-Fi Display technology can handle 4K60 HDR10+ video.
Is Snapdragon good for PUBG?
Most Android phones may depend on Qualcomm's Snapdragon 800 family of chipsets. The Snapdragon 835 from last year and the current flagship Snapdragon 845 provide the greatest performance for sustaining peak performance for extended periods of time with effective heat management.
Overall No doubt Snapdragon 800 series will be playing the best role in gaming purposes.
Is the MediaTek processor good or bad?
Yes, MediaTek processors are excellent, but there is more to them than that. MediaTek is a Taiwanese business that is a global leader in the highly functioning SmartPhone processor sector.
also read:Be careful if charging phone overnight battery explosions