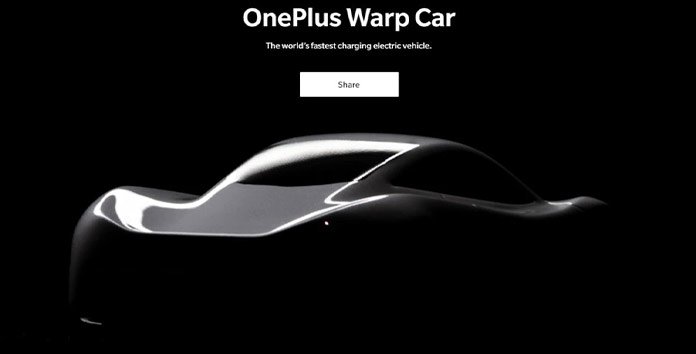 With gas costs growing on a daily basis, many Indians are considering switching to electric vehicles (EVs). While there are several decent electric alternatives available in a variety of price ranges, some new players are entering the market. To remember, Realme recently filed trademarks in the automotive sector in India, and the company is scheduled to debut its first electric vehicle shortly. Now, OnePlus seems to be preparing to join the electric mobility arena, as it has filed trademarks in India under the term 'OnePlus life' in the automobile category.
According to a trademark file obtained by RushLane, OnePlus is planning to introduce an EV in the Indian market under the OnePlus Life sub-brand.
OnePlus Warp Car
OnePlus has revealed an electric supercar dubbed Warp Car on its website in 2019. Because the teaser was posted on April 1, most people dismissed it as a prank. However, it now seems that the listing was not a hoax and that the business was working on an EV.
Just keep in mind that not everything stated in the listing might be accurate, given that the firm made absurd promises such as the automobile not having a steering wheel and instead of being controlled by a smartphone. The automobile will respond to smartphone movements such as swiping left to turn left, swiping right to turn right, swiping up to go ahead, and swiping down to reverse.
also read:OnePlus 10 leaks began, it's identical to the OnePlus 9
While the business did not reveal anything about the EV's engine, it did promise that the vehicle would be able to accelerate from 0 to 60 miles per hour in three seconds and will have a range of 290 miles on a single charge. In terms of charging, the automobile can be charged for roughly 270 miles in only 20 minutes.
The automobile would include a driver-focused cockpit, as well as a sophisticated interior with tinted carbon composite highlights and Morandi Gray leather trim.
While we would love to see the Warp Car become an actual product, we believe it is much too ambitious, and we anticipate OnePlus to take a more practical approach and produce an electric two-wheeler instead. However, as of now, facts are too few even for conjecture, so we propose that you scale down your expectations and wait for the corporation to make an announcement.
Aside from OnePlus and Realme, a number of other tech titans, like Apple, Sony, and others, are actively working on their own EV projects.