The 2000s inspire the fashion of the coming months with the miniskirt, transparencies and colour as protagonists. Fashion trends 2022, Fashion craze 2022, Fashion in 2022…
The big catwalks have spoken and leave us for this coming spring unusual trends, although adapted to all tastes and styles. Between unexpected revivals and great classics, next season's trends bet on authentic and playful fashion, inspired by the year 2000.
Games of brightness and transparencies, chromatic experiments or new volumes, among others. Spring-Summer 2022 redraws the contours of style by updating designs, cuts and fabrics from 20 years ago.
Mini skirt – Fashion trends 2022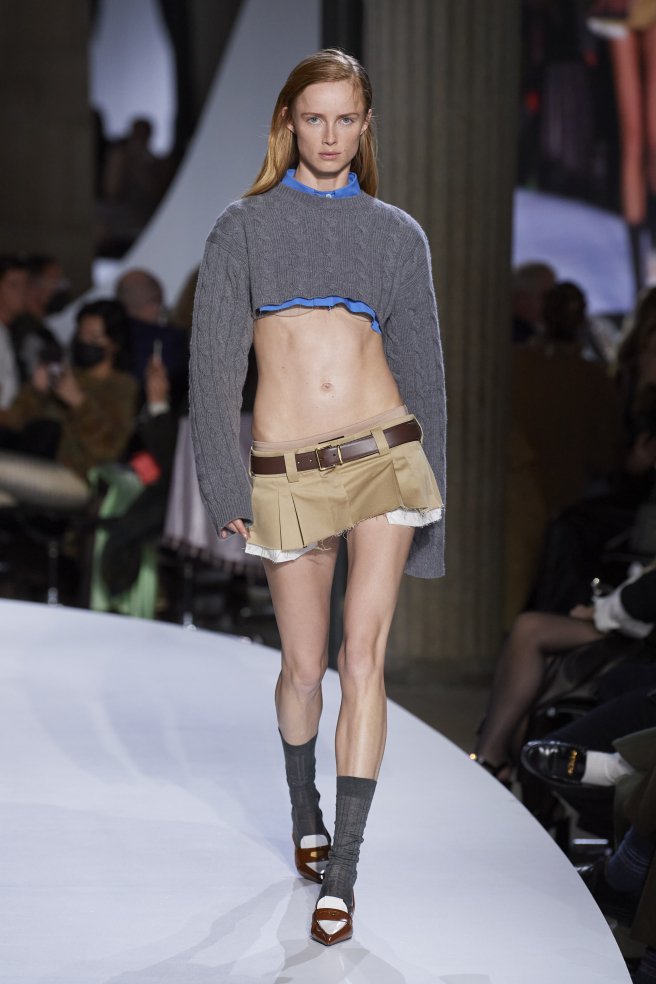 The pandemic has set trends in recent years. If in past seasons comfort prevailed, this 2022 fun reigns thanks to the new optimism. Mini skirts are the perfect piece of clothing to reflect this sentiment and we've seen it on the catwalks of Miu Miu, Fendi by Versace and Chanel.
For this occasion, very very short skirts with a low waist will prevail, making a nod to the trends of 2000. On the other hand, the asymmetry in these garments is still present, as shown by  Blumarine, Balmain or Loewe.
Vitamin 'Looks' – Fashion craze 2022
For the coming season, muted colors will be left in the closet to make way for a completely vibrant and energizing palette. Fuchsias, reds, oranges, greens and electric blues coexist with the most pastel tones, creating the well-known vitamin looks to stand up to apathy and low energy.
We have seen this optimistic touch in Loewe , Halpern, Rodarte, Moschino, Versace , Prada or Tom Ford , who created outfits full of life with cheerful combinations, either in the form of prints or in blocks of color, leaving single-color looks only to white.
Total look in white – Fashion in 2022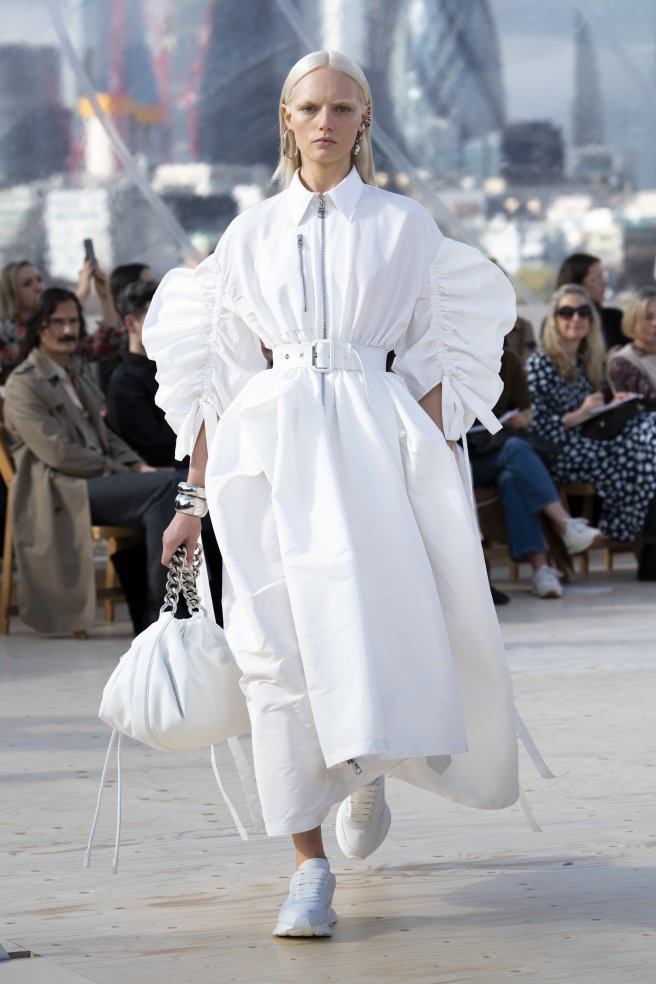 While color schemes will reign supreme in most outfits this spring, monochromatic looks in white will be a safe bet . On this occasion, more attention will be paid to textures, fabrics and patterns, giving priority to sporty aesthetics and slightly oversize cuts, as in Alexander McQueen, Hermès or Fendi.
On the other hand, the Romanesque spirit of Simone Rocha brings us a universe of tulle with a ballerina trend, full of embroidery.  Molly Goddard, for her part, also goes for incredibly sweet white total looks in voluminous dresses influenced by Rocha.
Y2K style – Fashion trends 2022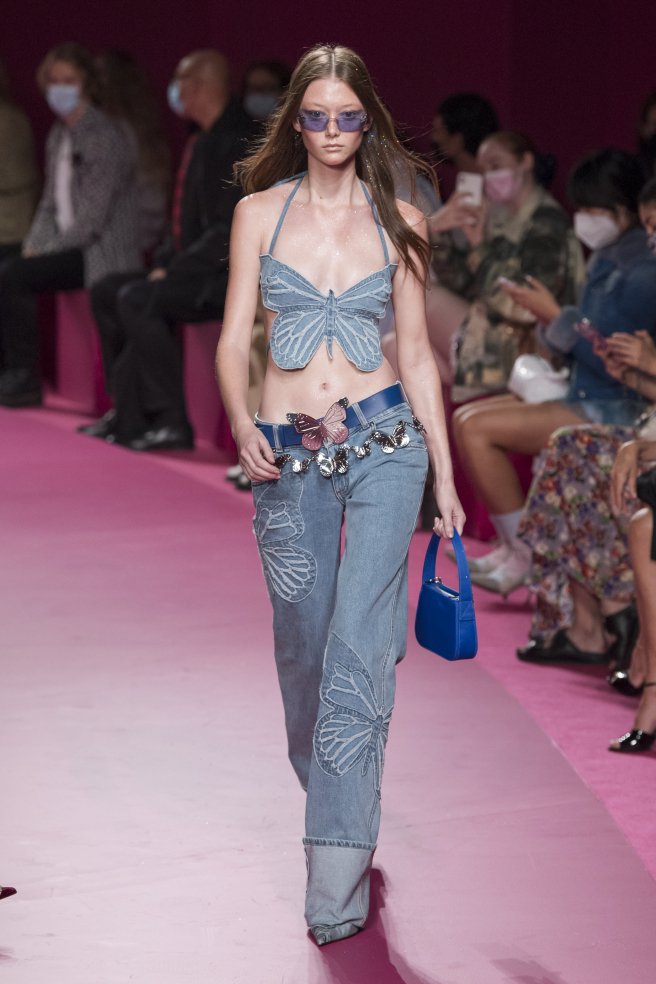 Generation Z has made the 2000 a trend again , with all that this entails. 20 years later, the low waist, denim, micro tops and butterflies monopolize both the windows and the catwalks.
Although some brands include all the Y2K trends in their collections, such as Blumarine, others update them and adapt them to this decade, such as Stella McCartney's transparent and shiny bodysuit , Coperni's extremely short tops , Versace's pink and metallic minidress or Loewe's denim dress.
Transparencies – Fashion
craze 
2022
The light fabrics that reveal the body under them will be one of the biggest trends of the season. We have been able to see them in all the parades of the main fashion weeks, such as Copenhagen, Stockholm or Paris.
The transparencies for this year range from the most daring such as A mi Paris or A. Roege Hove to those more veiled and covered with prints such as JW Anderson, Valentino or Giambattista Valli. However, a special mention needs to be made for Schiaparelli, whose transparencies are inspired by Helmut Newton.
In this trend, shiny transparencies stand out , providing a lot of glamor and taking us to 2014 with Rihanna and the incredible dress she wore on the CFDA Awards red carpet.
Mugler power dressing – Fashion trends 2022
Unfortunately, Thierry Mugler, one of the great fashion geniuses of the 20th century, has left us earlier this year . However, his legacy is more alive than ever. One of the great contributions to the world of fashion by the French dressmaker was power dressing (wearing clothes that express power), incorporating shoulder pads to the suit jacket , which challenged the broad-shouldered profile of men at a time when women They struggled to be relevant in the world of work.
For this season, blazers take center stage in silhouettes that mark the waist and emphasize the shoulders , adding structure, strength and sophistication to the new office look for women. Dolce & Gabbana , Versace or Saint Laurent are some of the big firms that have confirmed this trend.
Dress with pants – Fashion in 2022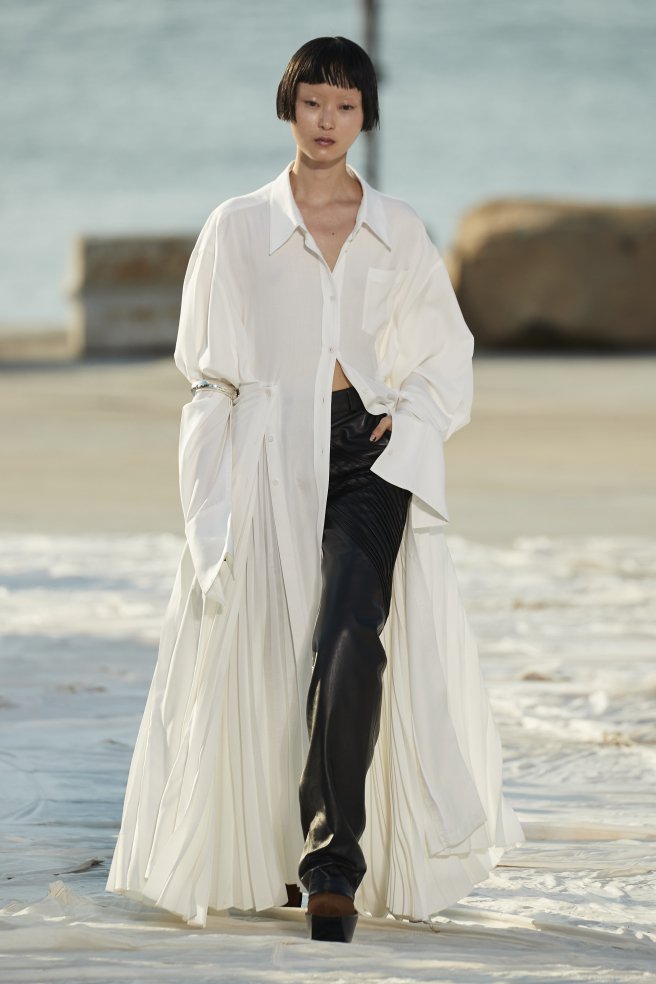 This unusual aesthetic appears on the catwalks of Peter Do, Louis Vuitton, Toga, Isabel Marant or Collina Strada. However, it is accompanied by great controversy , since for many it is impossible to harmoniously combine a dress with pants underneath. 
This risky mixture has found the perfect balance to maintain the proportions in a masterful way. The key is to combine long dresses that are buttoned and fastened to the waist , since in this way, we turn a dress into a kind of asymmetrical shirt. Of course, the pants must be straight or wide , leaving the skinny for another occasion.
Fringes – 
Fashion
craze 
2022
The bohemian and relaxed spirit will be present in all sizes, shapes and colors thanks to fringes. After a winter integrated into our wardrobe thanks to the denim trend,  the big brands have set out to explore and experiment with different versions.
In this way, we see  Chloé with very thick and multicolored fringes or  Halpern, with a very fine version that integrates into ballet dresses. On the other hand,  Proenza Schouler opts for bright colors, while  Rodarte goes for the disco trend with bright fringes.
Cut-out – Fashion trends 2022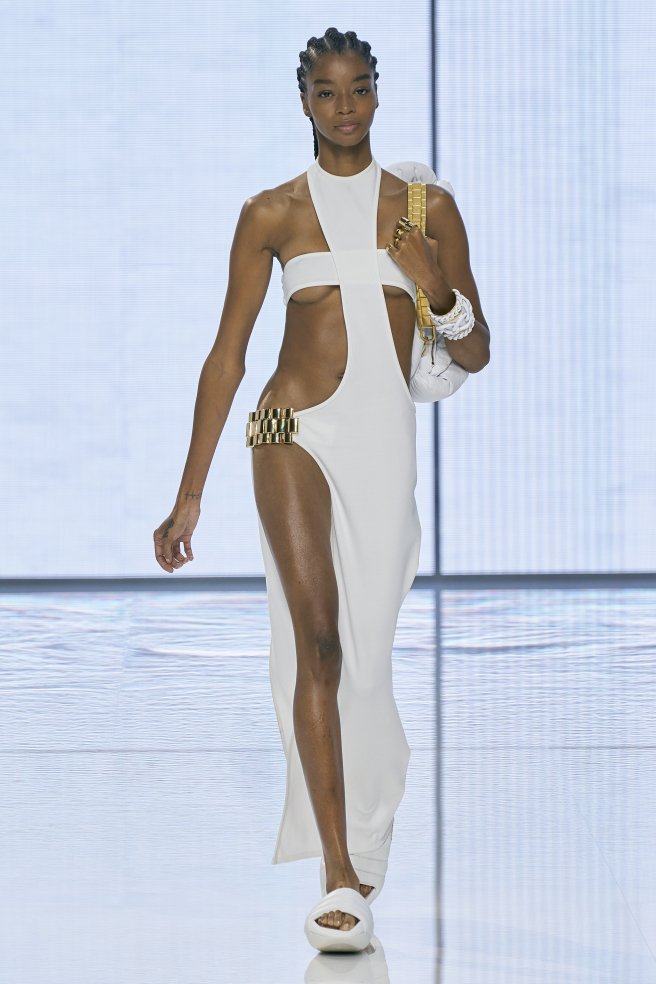 Although the  cut-out   has been around for a couple of seasons, for Spring-Summer 2022 we will see them in a more extreme and sexy version, showing a lot of skin.
Dresses and jumpsuits will be riddled with these strategic cuts, reverting to femme fatale or dominatrix style , depending on the fabric of the garment and embellished with draping and graphic cutouts. All infused with a healthy dose of elegance, as seen at Balmain, Courrèges and Saint Laurent.
Visible lingerie – Fashion in 2022
Euphoria planted the seed and social networks germinated it. Visible underwear is once again in full trend in all its versions: from two small straps that hug the hip, as Givenchy, to seeing the upper part of the lingerie in full, as Chanel shows.
As is evident, this trend is accompanied by the low waist to be able to show off, revealing itself as a fashion piece in its own right. Just as Givenchy, Chanel or Balmain confirm , it will only be present in the same color as the skirt or pants.
More On TheFlashUPdate: