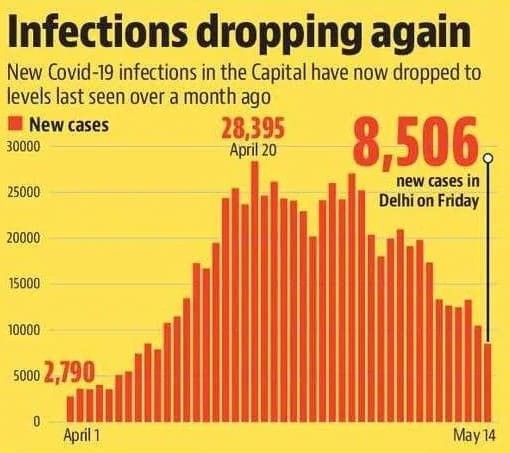 New Delhi: It has been a very long journey since March 2020, we are yet to win against Covid-19. Delhi and India are experiencing their second wave of covid-19, the fatality rate in India are less than in other countries but every life matters. Delhi has been continuously getting 10K plus cases since April 10, 2021. The good news is, today on 15 May, the number of cases went down as Delhi recorded 8,506 new cases of Covid-19.
Also visit:- Avoiding Mask & social distancing after Vaccination – Is it safe?
Delhi is currently under lockdown which is almost 4 weeks mature. Oxygen emergencies are starting to get responses from suppliers as the number of suppliers has increased because this is what you should be selling in these times. All ICUs still remain full, only a few available, but this news has come as a hope for healthcare infrastructure for National Capital Region.
The city's test positivity rate has dropped down to 12.4%, which is the lowest since April. This could mean, we are going down on the curve. It is expected that India will experience the third wave in July or August.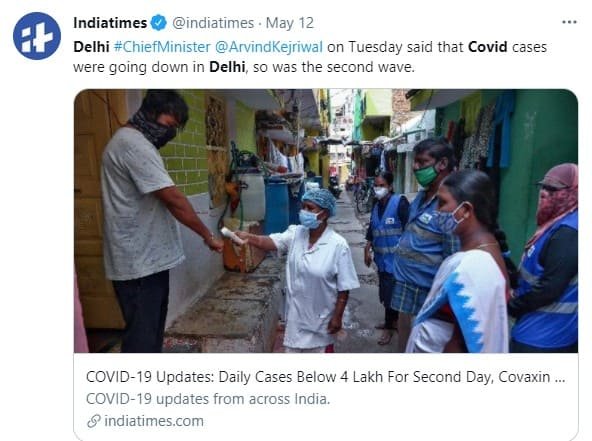 "Delhi has recorded fewer than 10,000 cases in the last 24 hours. This has been possible only due to a strict lockdown and the discipline of the people in Delhi. For now, we must remember not to let our guard down," said the honourable Chief Minister of Delhi, Mr Arvid Kejriwal. No comments were made on the extension of lockdown that is ending on May 17, but it is evident that it might extend.
Find out how coronavirus attack us? And what is coronavirus?
Arvid Kejriwal made a statement that, in the past 10 days, 3000 beds have been freed, ICUs are still maxed on capacity. Average cases daily cases are dropping that's what today's numbers show.
Also visit:- Hand sanitisers can damage children's eyes, research claims
There are still, 71,794 active cases in India which were preceded by almost 1,00,000 active cases. The number peaked at 99,752 on April 28, this is the highest number of recorded active cases in Delhi. The country faced a huge problem as there wasn't enough oxygen available and no bed for patients. Basically, we struggled to provide the necessities.
India currently has more than 10 lacs of active cases with total deaths crossing the 2,66,220 mark on Friday. The population of our metropolitans is also a big concern for the government as they can hold millions and billions of people with just a police force of thousands. Still, India is managing and recovering strong, the pharmacy of the world bleed during this lockdown, yet standing strong.
Also visit:- Agriculture Life Is Important
The government has added that they will focus on strengthening its own system than creating makeshift facilities to help our whole population as we are only going to grow larger in number. Experts suggest that the vaccination program isn't conducted as efficiently as possible, people from Delhi have to wait for months to get a shot. Delhi as a whole also faced a shortage of doses as the AAP party blames BJP for this.
The capital has delivered 4.4 million doses to date, with 1 million people receiving both doses. The government should focus on vaccination strategies as the current ones are not helping very much.
"The people who have had an infection now are more or less protected from a second one for now. So, we should target those who haven't had an infection and immunise them first," said, Dr Jugal Kishore, head of the department of community medicine at Safdarjung Hospital.
Vaccination on a mass level can save our country and this world, other than that there no other option for us as this virus will keep mutating and keep infecting us. So stay home and stay safe until you are safe.