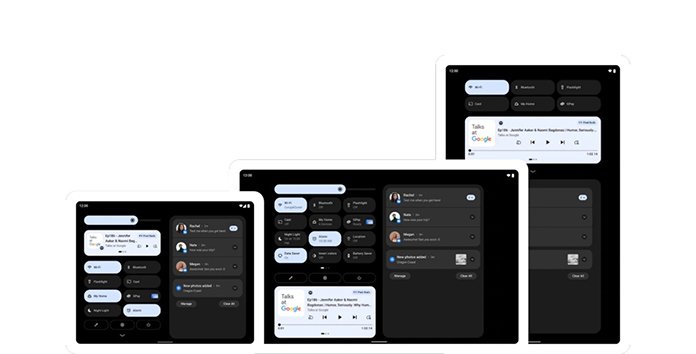 Google revealed a new version of Android OS for tablets and large-screen devices such as foldables at the Android Developer Summit on Wednesday. Android 12L is the name given by the business.
Android 12 was released last week for Pixel devices and will soon be accessible for other phones that are compatible. With the addition of a "L" to Android 12, Google is definitely aiming for "large" screen devices. According to Google, Android 12L will provide a much improved experience for tablet, foldable, and ChromeOS users.
Google states in an official weblog that there are presently over 250 million active big screen Android devices. "With all of the enthusiasm, we're continuing to invest in making Android an even better OS on these devices, for consumers and developers," wrote the company in a blog post.
According to the IT giant, approximately 100 million new Android tablet activations have occurred in the previous 12 months, representing a 20% year-over-year increase. It also mentions that ChromeOS is currently the fastest growing desktop platform, with a growth rate of roughly 92 percent. Furthermore, foldables have grown by more than 256 percent year on year.
Android 12L top features
Google has published the Android 12L developer preview, which will allow select users to test the new big screen features and optimise the existing applications. Google provides enhanced UI performance on big displays across alerts, fast settings, lockscreen, overview, home screen, and more with the Android 12L. 12L additionally optimises system applications.
With 12L, the tech giant has also made multitasking more straightforward. On wide displays, it has included a new taskbar that allows users to quickly move between preferred applications. Not only that, but the taskbar makes split-screen mode more accessible than ever before. To launch an app in split-screen mode, users will simply drag and drop it from the taskbar.
Google has "enhanced compatibility mode with aesthetic and stability improvements to provide users with a better letterboxing experience and make applications appear better by default."
also read: Google Earth Engine is now available for commercial use
Changes to Play store
Google is also making changes to the Play store to make it easier for people to discover the greatest app experiences on their tablets, foldables, and ChromeOS devices. With Android 12L, Google is adding additional tests to verify the quality of each app against big screen app quality criteria. Users will see a warning message if an app is not optimised for big displays.
"As promised earlier this year, we'll also be offering big screen specific app ratings, so users will be able to assess how your app functions on their large screen devices." "These improvements will be implemented next year," Google said in an official blog post.
Release timeline
Google confirmed that the Android 12L feature drop will arrive early next year, around the time of the next wave of Android 12 tablets and foldables. The business also states that it is collaborating with OEM partners to deliver 12L capabilities to their large-screen devices. The Lenovo P12 Pro will be the first device.
How to enroll to developer's preview
Large screen users may download the 12L Android Emulator system images and tools to have access to the developer's preview of Android 12L.
Google also promises that Android 12L will be accessible for phones, but since most of the new features won't be visible on smaller displays, the focus will be on tablets, foldables, and ChromeOS devices. The firm intends to offer Android Beta enrollments for Pixel devices later this year.
also read: Google Web Search now has dark mode feature: How to enable?