In the Northern Hemisphere the good weather begins, summer is approaching, the girls put on their bikinis, the boys put on their swimsuits and everyone goes to the pool and the beach. But… how can we extend the pool season? How to heat pool without spending electricity? What can we do to heat the water without spending large amounts of money on air conditioning installations? In this article, we propose an ingenious and inexpensive trick that will help you heat your swimming pools a few degrees and in this way, you will be able to enjoy them for longer.
Heat pool without spending electricity
If you are a little "handyman" you will have no problem putting this interesting experiment into practice. You only need a few hula hoops (the amount will depend on the size of the pool), and a few meters of black polyethene tarpaulin (a very cheap and easy-to-find plastic).
The question is to cover the opening of the hula hoops with the black polyethene canvas, you will only have to cut it to the size of the hula hoop and weld it with a little heat or glue it with waterproof glue. (Below we leave the video tutorial on how to build them).
The result after preparing a few Hula Hoops should be something like this: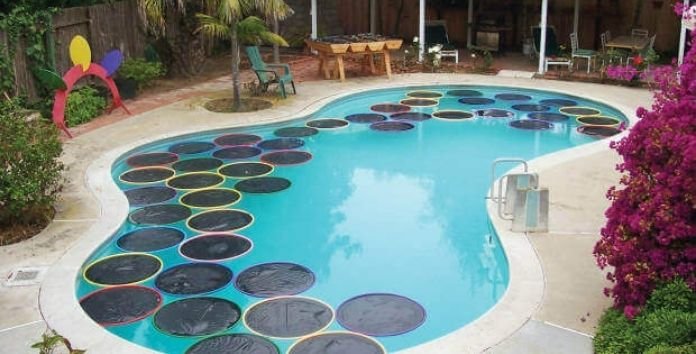 As you can imagine, the black (or blue in the case of the photograph) plastic canvas collects the heat of the sun and transmits it directly to the water with little loss. This system can raise the temperature of your pool between 2 and 5 degrees depending on the number of hula hoops you put. One of the advantages is precise that you can vary the number of coal hoops you want to put to raise the temperature more or less depending on whether it is a colder or warmer day. In addition, another advantage is that with this system it is not necessary to cover the entire pool and you can swim between them without problems.
Do you dare to try them?
More on TheFlashUpdate: