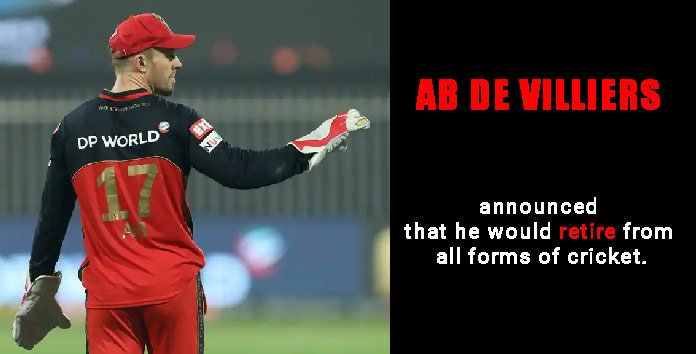 AB de Villiers announces retirement from all forms of cricket: South African star AB De Villiers announced his retirement from all forms of cricket on Friday, bringing an amazing career to a close. The 37-year-old announced his retirement on Twitter, after a 17-year career that saw him play for the Proteas in 114 Tests, 228 One-Day Internationals, and 78 Twenty20 Internationals.
De Villiers said in a statement: "It has been a great experience, but I have chosen to retire from all forms of cricket."
Since the backyard matches with my older brothers, I've played the game with uncontrolled excitement and pure pleasure. At the age of 37, that spark has dimmed somewhat.
Finally, I am cognizant of the fact that none of this would have been possible without the sacrifices made by my family – my parents, brothers, wife Danielle, and children. I'm looking forward to the next phase of our life, when I'll be able to properly focus them.
I'd like to thank every teammate, opponent, coach, physio, and staff member who has walked the same route as me, and I'm humbled by the support I've had in South Africa, India, and anywhere I've played.
Cricket has been very kind to me. Whether for the Titans, the Proteas, RCB, or anywhere else in the globe, the game has provided me with unimaginable experiences and chances, for which I will forever be thankful."
De Villiers' statement basically puts an end to his connection with Indian Premier League team Royal Challengers Bangalore (RCB). The accomplished South African batsman started his RCB career in 2011 and played a key role in the franchise's five Playoff runs throughout his time.
also read:Jasprit Bumrah :One of the most Fastest Bowler of india
AB de Villiers said in response to this decision, "I have had a long and productive career at RCB. Eleven years have passed in a flash, and leaving the boys is bittersweet. Of course, reaching this conclusion took some time, but after much deliberation, I've chosen to hang up my boots and spend quality time with my family. I'd want to express my gratitude to the Royal Challengers Bangalore management, my buddy Virat Kohli, my teammates, coaches, support staff, fans, and the whole RCB family for their faith and support over these years."
"I'm going to be an RCBian for life. Every single person in the RCB set-up has become family to me. People come & go, but the spirit & the love we have for each other at RCB will always remain. I've become half Indian now & I'm proud of that." – @ABdeVilliers17 #ThankYouAB pic.twitter.com/5b6RUYfjDY

— Royal Challengers Bangalore (@RCBTweets) November 19, 2021
"My journey with RCB has been an unforgettable one. On a personal level, I have so many memories to remember for a lifetime. RCB will always be a significant part of my life and family and will continue to support this incredible team. "I will always be an RCBian," he said.
AB de Villiers has appeared in 156 matches for the Royal Challengers Bangalore and scored 4,491 runs. He is the second greatest run scorer in RCB history after Virat Kohli, with 133* against Mumbai Indians (in 2015) and 129* against Gujarat Lions (in 2016).