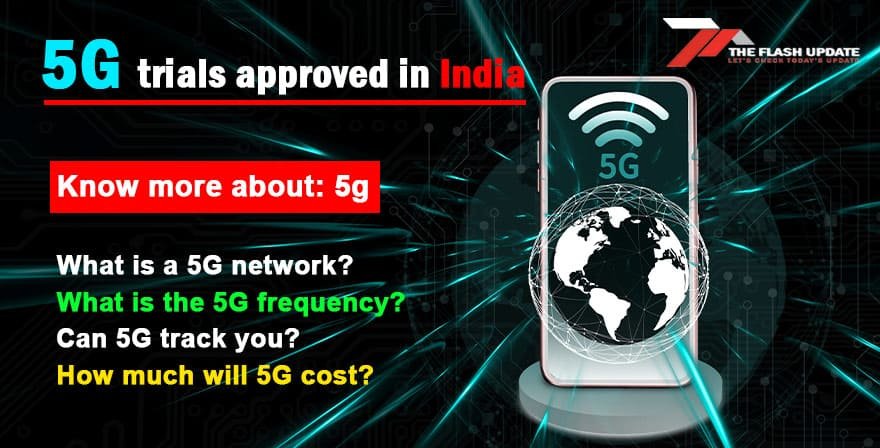 Topic: 5G trials approved in India
India is a country of massive population, to fulfill its needs it consumes a lot as it is one of the biggest markets in the world for every type of product. When it comes to internet consumption in India, average data consumed per user per month was at 13,462 megabytes as of 2020. 
As many countries have already shifted to the 5G spectrum, India is still trying to make a solid move in the market as it could mean more business and better human development. The Department of Telecom approved telecom companies  like Reliance Jio, Bharti Airtel, Vodafone and MTNL on tuesday to conduct 5G trails.
China has been keeping India on the edge with many companies eying India as a huge market for its 5G equipment installation. But india has opted for different makers of telcom gear for 5G, which are Nokia, Samsung, C-DOT and Reliance Jio. Reliance Jio is a big entry in this market as it is the fastest growing network company in the world. 

These telecom companies have be given allowance to conduct trials in various bandwidths including the mid-band (#.2 GHz to 3.67 GHz), millimeter wave band (24.25 GHz to 28.5 GHz) and sub-GHz band(700 GHz). Companies are allowed to use existing spectrum to carry out these 5G trails. 
To this DoT said the duration of these 5G trails  will be for 6 months which includes 2 months for procurement of the equipment through approved sources. 
What is a 5G network?
It is a much faster generation of network spectrum using high bandwidth to enable more reliable connection and will connect every object that can digitally connect to a network. It is a much more capable version of the network of what you currently own with high speeds reaching multiple GBs of data. A amazing 100x increase in traffic capacity, low latency to deliver more immediate access. 
also read: BSNL has launched Fiber Basic Broadband Plan for less than Rs 450
What is the downside of a 5G network?
Only downside to this network is it would require expensive equipment installation to enable these top speeds, which would be beneficial for the office going millennials and would evidently end up making our economy a better one. 
This infrastructure should be environment friendly so that as humans we don't spoil nature which is a huge concern as the world is going through a temperature shift. 
also read: 3 Ways to Motivate Yourself and Others
Can 5G track you?
Increasing the bandwidth means you end up with a better connectivity and a much more secure network which is a new generation gift. If you are connected to an optical fibre, then you are safe and a secure connection as a result. 
Who invented 5G?
No company owns a 5G network, it is developed by multiple companies. Many companies have invested millions to make this dream a possibility. India is still installing 5G networks while China has 6G going live as a network in society. Huawei is a big player in the chinese market which was banned by India and many other big countries.
also read: Apple plans to announce iPhone 13 in September 2021
What is the 5G frequency?
 5G networks are using high bandwidths which means high frequencies leading to about 39GHz. 4G networks only worked on MHz, that is alone a big step to reach better heights. 
also read: Samsung Galaxy S21 Series Can Now Be Acquired From Samsung.Com, Amazon.In
How much will 5G cost?
Jio has been providing 5G networks at under 500 INR, which is a huge improvement for the public. In western countries as well, the cost for these networks is 30$ a month. Many big players are also involved in the market to capture the biggest chunk to make some big bucks. 
also read: What is bitcoin? Who Created Bitcoin? How many Bitcoins are left?
As we go ahead in the future with all the covid around, human beings have reached heights to make amazing information transmitting devices. With thousands of citizens shifting to better networks as society earns more and more from the market. Future is here already with electric cars and 5G networks everywhere.