A heart-thumping thriller, Netflix announces Money heist season 5 release date. People have been waiting for this, as Álvaro Morte, Úrsula Corberó, Pedro Alonso and the rest of the crew will return to give another great performance. The teaser for the latest edition of seasons is released, which looks promising and has been able to create the hype needed
Netflix on May 24th, 2021 posted on Twitter announcing there will be two parts of the finale. Volume 1 will premiere on September 3rd, 2021, while volume 2 of the series will be on our devices on December 3rd, 2021, exactly 3 months later.
Read More:- 'Broken But Beautiful 3' Review: Sidharth Shukla & Sonia Rathee Web Series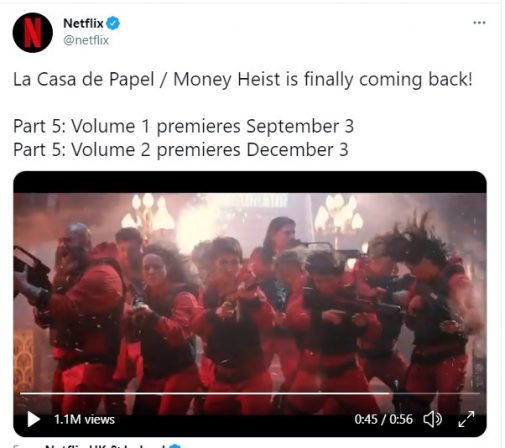 "What began as a robbery will turn into a war,", said the Netflix description of Money heist, the ultimate battle at the Bank of Spain.
Also read:- Realme X7 Max 5G With and Realme Smart TV 4K Launched in India: Price, Specification |
CAST
Money Heist stars Álvaro Morte, Úrsula Corberó, Pedro Alonso, Itziar Ituño, Najwa Nimri, Jaime Lorente, Miguel Herrán, Esther Acebo, Rodrigo de la Serna, Darko Perić and Hovik Keuchkerian among others.
Performances of the actors have been quite satisfying till now, with the doctor creating tension and Tokyo being savage.

Why Money Heist season 5 is in two parts?
The maker of the show, Alex Pina, after the teaser has said, "used every tool we could to create the sensation of a season finale or series finale in the first volume itself,". That's why there are two parts of the season, also this would hype the second part and Netflix can really cash in on this marketing strategy.
Also Visit:- OnePlus Nord CE 5G Price in India May 2021, Release Date Out
The first part of the season will be "in an extremely aggressive genre". While the second part will be a journey across the sentiments of the characters. Pina added, "It is a journey across their sentimental map that connects us directly to their departure."